Cannabis infused fresh tomato marinara sauce to make pizza, spaghetti and other Italian inspired marijuana infused dishes.
Ingredients
 ¼ cup olive oil (divided) 

⅛ oz Cannabis Flowers (or ¾ oz rosin chips/ shake/ trim) 

1 onion, chopped 

2 lbs Roma tomatoes (blanched, peeled & chunked) 

6 cloves minced garlic 

½ cup red wine 

1 tbsp honey 

2 tsp basil

1 tsp oregano

 1 tsp salt 

½ tsp black pepper

 ¼ tsp crushed red pepper flakes

 1 tsp balsamic vinegar1
Instructions
Grind and decarb cannabis in oven set at 250° F for 30 minutes.2
Blanche, peel and chop the tomatoes into chunks.3
Divide olive oil in half, add half into small oven safe dish. Add decarbed cannabis into small container with oil, cover and place in oven still at 250° F for 1 ½ to 2 hours while preparing marinara.4
Add the remaining half of olive oil into large saucepan and add the tomatoes and remaining ingredients and stew and reduce for 1 – 1 ½ hours while oil infuses.5
Strain the cannabis from the olive oil into the marinara, reduce heat and stir for 5 minutes until completely combined.6
Remove from heat and serve or let cool and store in an airtight container or storage jar.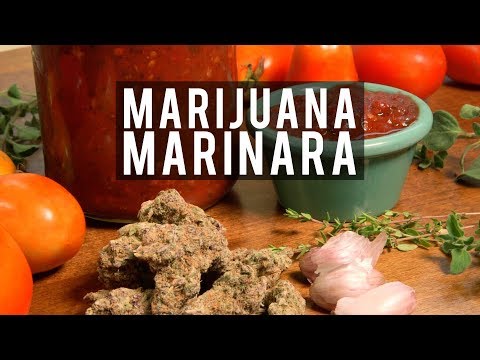 Cannabis Infused Fresh Tomato Marinara